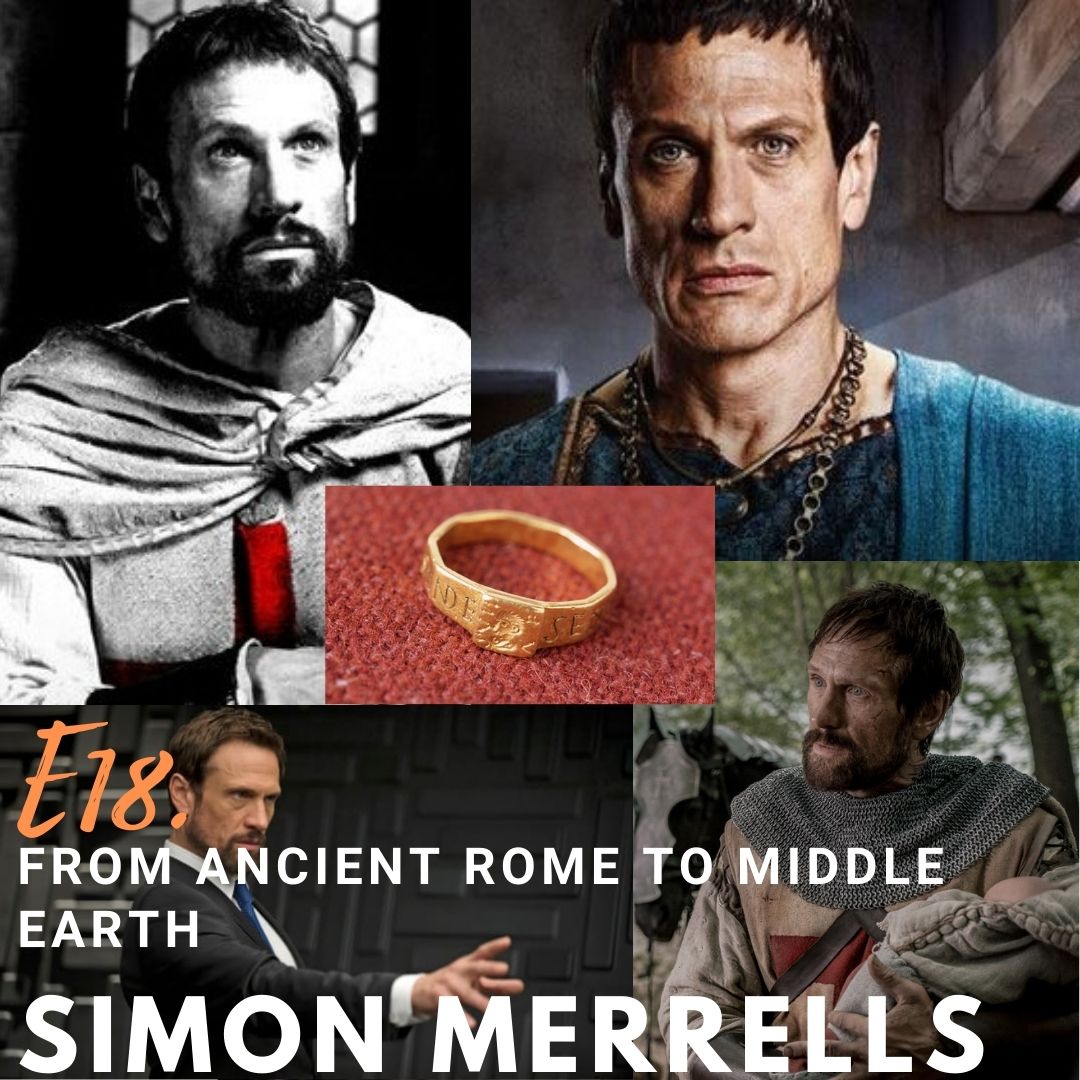 After a brief absence for editing, I'm pleased to announce the return of the Yuletide special!
Welcome back long-time listeners, and welcome to shiny new listeners who have come for this week's wonderful guest, Simon Merrells!
Simon is often known for his stellar turn as Marcus Crassus, the man who defeated Spartacus, and the titular character's antagonist in the hit tv show. Spartacus shot Merrells to international fame, and he has since put in turns on The Tomorrow People, Dominion, DC's Legends of Tomorrow ,12 Monkeys, and Neil Gaiman and Terry Pratchett's Good Omens!!
Simon recently starred opposite Tom Cullen and MARK HAMMILL, yes, Luke Skywalker/the Joker himself,  as the Templar Knight, Tancrede, in History's Knightfall, and shares a wee bit (as much as he's allowed to at any rate) about the forthcoming Lord of the Rings/Tolkien-based tv show! 
His career spans more titles than I can fit into an intro, but I will mention that I met Simon when he was playing the lead in a short film I was working on called The Leap, a sci fi dystopia directed by Karel van Bellingen. It's a great film, and worth 20 mins of your time! 
https://youtu.be/GoJb30Une-A
We also cover some serious ground on Spartacus and Knightfall, and I have to say I was seriously impressed with Simon's curiosity and knowledge on the ancient world. It highlights his dedication and focus not just as an actor but as a person of intelligence and insight. But he's also a bloody good laugh so settle in for some history-spanning stories and behind the scenes frolics with my Yuletide special guest, Simon Merrells.
Thanks go out to Simon for his time, and The Leap family, we are overdue a reunion!
Simon can be found 
@SMerrells on Twitter
https://www.instagram.com/simonmerrells/
If you want to support the show, give it a like and a follow on the socials and just help spread the word, and if you really want to help out the show click the link and chuck in a buck on Liberapay, my patron platform of choice (for now, more news on this soon). 
https://liberapay.com/DocHarrison/
In the meantime, have a happy and safe holidays…remember no kissing under the mistletoe this year, and I'll hopefully see you all on the other side when this dog of a year is over, in 2021. But for now, happy holidays wherever you are, and a happy new year. I've been Paul Harrison. Good night and good luck.